On Sunday the 18th of June, Suzie London will be celebrating its 2nd Birthday! Come and celebrate at the Stroud Green Summer of Love Local design trail, where Suzie will be popping up inside Shiny Pretty Shop
This year marks the 50th anniversary of the original Summer of Love '67 where freedom of expression, art and love reigned supreme. #ShopStroudGreen are celebrating the fact with a Summer of Love Local weekend festival this June. Across Saturday 17th and Sunday 18th June there will be a veritable smorgasbord of activities hosted, run and made by your friendly neighbourhood businesses, artists and creative types.
All events and workshops are free except for the guided Stroud Green walk which is a modest £5 and the Stroud Green Festival music events which are a bargainous £12 (£8 concessions). 
To take full advantage of all the goings on, look out for the #ShopStroudGreen poster in participating shops to collect your trail map. Then get skipping up the road with flowers in your hair ready to get stickered up like a cool cat. Once you've collected at least 10 stickers (one per shop – no cheating) you're entitled to a free drink from either La Fabrica, The Deli at 80, Walnut, The World's End or The White Lion. You don't have to buy from the shops to get the sticker although #shoplocal is encouraged, of course.
The weekend will also see a map bursting with artist pop ups, craft workshops, talks, walks, demos, live art and exhibitions from local photographers, ceramicists, designers and illustrators. Music will float across Stroud Green too as the weekend is also host to an array of events curated by The Stroud Green Festival.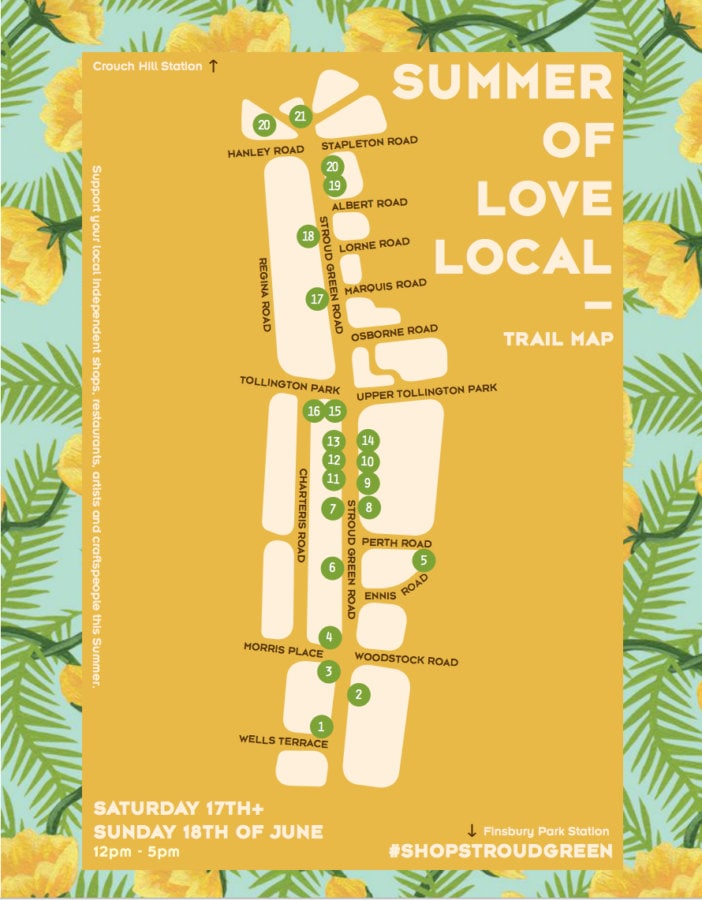 Suzie London will popping up in Shiny Pretty Shop on both days.
Venue: Pretty Shiny Shop, 67 Stroud Green Rd, Stroud Green, London N4 3EG
Dates & Times: Saturday 17 and Sunday 18 June 12-5pm.
For the full line-up, head on over to the North Four website here.